I am currently in Vancouver for the USENIX Security '06 conference. The trip and conference have been pretty good so far.. here's a basic summary:
Day 1 – Saturday, July 29, 2006:
Tiff dropped me off at the airport, dropped my luggage off and got through security without any snags. Since I upgraded my ticket to first class, I got to hand out at the Worldclubs lounge before the flight.. very nice; free drinks, free internet, comfortable chairs, and most importantly, quiet. About 15 minutes before my flight was supposed to board, I wandered down to the gate, and boarded soon after. I was sitting by a guy who's working in Taiwan right now, and had some interesting pre-flight conversations.. then we pretty much stayed to ourselves during the actual flight. I gotta say, I much prefer first class.. there's actually enough room to feel comfortable, and you get pretty good service. When I arrived in Vancouver, I went through customs (pain-free again; just a 15-minute wait.. not bad), and then waited another half hour or so for my luggage to show up. Then, I headed down to the parking ramp to pick up my car.. ended up with a Chrysler 300; I'd never driven one of the recent models before, and I'm actually quite impressed! Here's a shot of the car: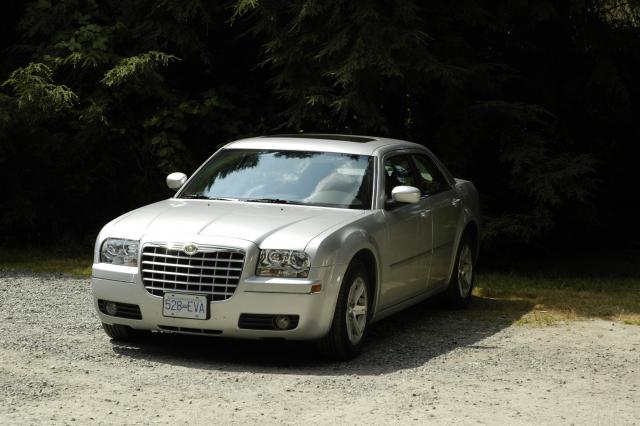 I drove through the nasty Vancouver traffic to the hotel.. and didn't know where I was supposed to turn to get into it, and ended up driving by it. I had to go up about 4 blocks before I could turn around, and it took me another 15-20 minutes to find the silly hotel ramp.. that wasn't much fun. After I got to the hotel, I ended up crashing for the rest of the day.. I guess I was tired!
Day 2 – Sunday, July 30, 2006:
On Sunday, I decided to head over to the Capilano Suspension Bridge, since I had heard impressive things about it. I was rather disappointed.. it was an interesting experience, but you really couldn't do much "nature"-ish stuff.. you were basically limited to a small set of trails they had set up for you. Ah well, it was still fun.
After that, I thought I'd head up to Whistler, and try to go on a Gondola ride to the peak of a mountain. Unfortunately, there was construction all the way up Highway 99, so I arrived too late to do that, so I just wandered the city for awhile – looks like a nice town! Then, I headed back to the hotel to crash again.
Day 3 – Monday, July 31, 2006:
Monday was the first day of the conference. I attended the "DDoS for Fun and Profit" session; it was interesting, but nothing I didn't already know. I didn't really do anything afterwards.. just hung out in the hotel room, watched some TV, and did some work.
Day 4 – Tuesday, August 1, 2006:
Tuesday was my "Security Without Firewalls" session. Much more interesting; they basically reinforced a bunch of stuff I already knew. One thing they did is a basic tutorial on cfengine, which is a configuration management utility. I've always meant to dig into it, but hadn't had the time.. they boiled it down enough that I'm gonna have to play with it when I get back home. Once again, after the sessions were done, I went to my room and crashed.
Day 5 – Wednesday, August 2, 2006:
Wednesday was the first day of talks and such instead of sessions. I went to a few talks in the morning and afternoon; a bunch of interesting stuff, but nothing that really applied to what I'm doing at work. It was still fun to hear about what people really in the security research field are up to, however. After the talks, I decided to head out to the Lynn Headwaters Regional Park. I was much more impressed with this park than with Capilano – even the suspension bridge was cooler. :) Here are few pictures of the park and bridge: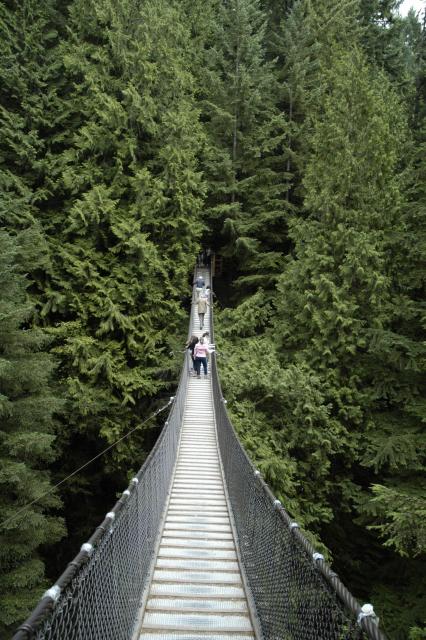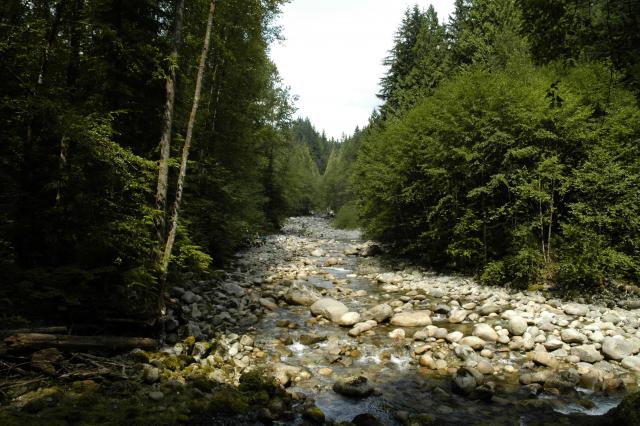 I was going to hike down to the falls, but my ankle started giving me trouble, so I decided to head back to the hotel. I hung out for a couple hours, had dinner in my room (it actually ends up costing less than going down to the restaraunt, interestingly.. I still haven't found any inexpensive restaraunts in the area – bummer), and then decided to go explore Vancouver at night (around midnight), looking for interesting picture opportunities. I didn't find anything really interesting, except for a park full of kids making out in cars – I guess every city's gotta have one. Maybe I'll go exploring some more tonight – I'll have to see. I was inspired by this shot — I will have to head over to that area.
Oh, and the hotel's good at a good presentation for dinner, even if you order room service: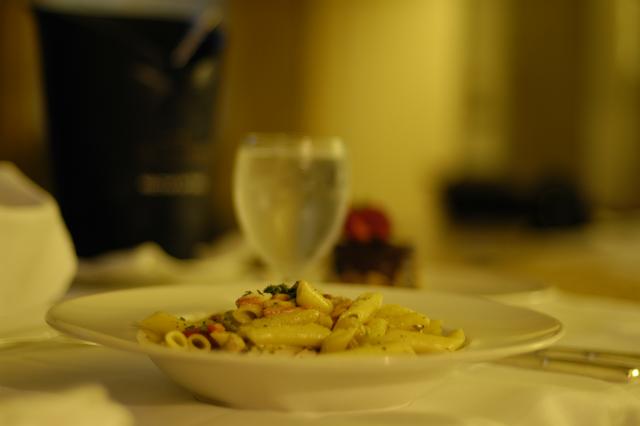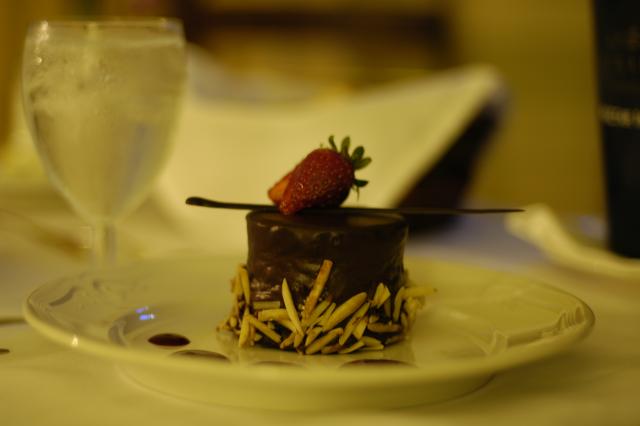 Day 6 – Thursday, August 3, 2006:
This is today, which obviously isn't done yet. :) I've gone to two talks so far — one regarding software's security improving with age, and then another regarding how wiretaps are done, and vulnerabilities in the system. Both were quite interesting, and worth going to. I'm haven't yet decided which other sessions I want to go to today.
Well, I'll post more later!