My wife and I recently took a quick overnight trip to Stillwater, MN for our anniversary. We came out of the Dock Cafe right around dusk, and I saw some opportunities for some pictures that I thought could be cool, but knew that a single standard exposure would not capture the reality of what is there. I hadn't ever tried HDR photography before, but knew enough about it to know that it'd take the results of several bracketed images and let me build an image that captured what I actually saw. So I went ahead and took four sets of bracketed images – the first set I did 7 images, and the rest I did 9 images. Once I got back home, I figured I'd do some searching to see how to assemble them, and came across a HDR tutorial at Stuck in Customs. I used that tutorial as a baseline, but edited the workflow a bit as I went.
[ad name="Google Adsense 728×90″]
Set #1: Stillwater Lift Bridge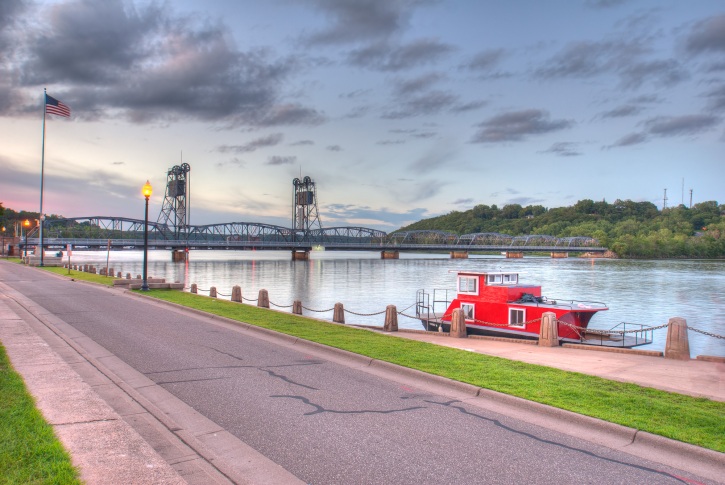 Stillwater Lift Bridge - HDR version, created from 7 exposures. Light editing to 'fix' flag and eliminate some ghosting from people who walked in from the right.
This is a photo of the Stillwater Lift Bridge – a major landmark in the area. I also love the old-school houseboat in the foreground! The HDR image above was built from 7 bracketed exposures, where the others were built from 9. I think this is my favorite out of these first four I've tried. My process for this image:
Import the raw images (I always shoot in raw on my D200, got tired of JPEG long ago) into Lightroom 3
Select the seven raw images in Lightroom, right-click, go to Export->Photomatix Pro (Note – this assumes that you have Photomatix installed as per the article above!)
Select 16-bit TIFF for the output type, 'Generate HDR Image', 'Go Directly To Tone Map', and enable the automatically-add-to-Lightroom option, with stacking. This will stack the final image with the first image (which is the image that you would get from the camera if you weren't bracketing), and makes it easy to find for processing.
Ran through the Photomatix process as recommended in the Stuck in Customs article, until things looked 'right'.
After I was satisfied with the HDR image, I opened the final image in Photoshop, and did some artifact correction (replaced the wavy flag caused by multiple exposures with a breeze blowing the flag around, and cleaned up some ghosting from a person entering the frame from the right as the images were taken.) I also did a bit of minor color correction to get things to 'pop' a bit, and did noise reduction with NeatImage Pro.
If you are interested, here are the original images this was assembled from, in order of exposure:

Stillwater Lift Bridge - Normal Exposure






As you can see, the HDR version just has more 'pop' than any of the others – but I didn't take it to an extreme.
Set #2: "Old Building"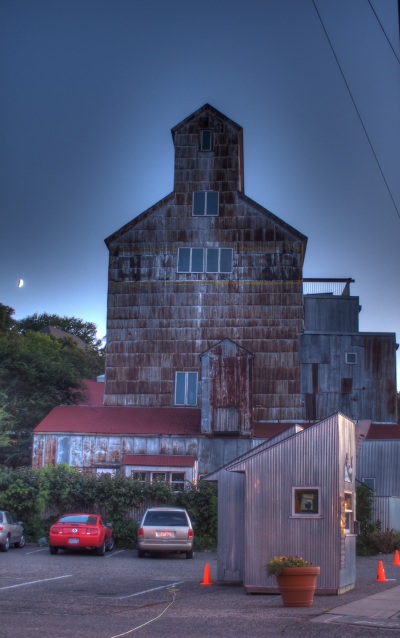 Stillwater old building - HDR version from 9 exposures. Only editing was a slight rotate and crop.
This image is of a building that you can see from the road by The Dock Cafe if you look back towards Highway 36. Not sure what the building is – would love to hear from anyone who does know! This was assembled from 9 images, using the same technique as above – the only difference is that I did not need to do any artifact correction. Original images..

Stillwater old building - standard exposure








[ad name="Google Adsense 728×90″]
Set #3: Stillwater Trolly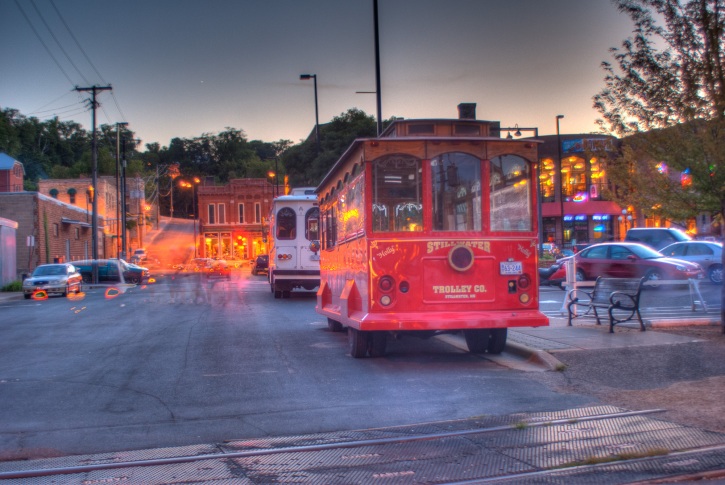 Unedited HDR version, from 9 exposures. Multiple cars and a group of people went through the scene while shooting - I haven't edited out the artifacts.. it's ugly! But still kind of a nifty picture.
This image is also taken from the street right in front of the Dock Cafe. It is of the Stillwater Trolly, which was shut down for the day by this time. 9 original images; I did not edit the final result, but should have – there are a ton of artifacts present in it. I didn't really like the final result all that much so I haven't bothered.. but if anyone else enjoys it I will either make raw copies available or do the work. ;) Originals..

Original exposure - note the moving car on the left..







Set #4: The Dock Cafe logo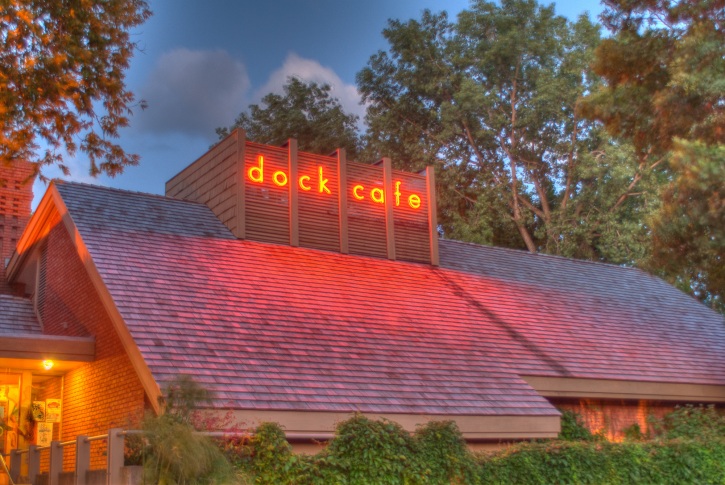 The Deck - HDR, completely unedited. See the hosting in the lower-left-hand corner where people were walking in and out.. fun!
Last attempt of the night is a shot of the logo for the Dock Cafe (good food and atmosphere by the way!) Again, not all that happy with my HDR result, so didn't edit out the artifacts in the lower-lefthand corner. Originals..
That's all folks..
So that's it for my first foray into HDR! Love to hear what anyone else who has played around with HDR thinks of my results, critiques and flames are welcome. I'd also love to hear from anyone who hasn't touched it yet but would like to! :) Thanks for reading and hope it was interesting at the least!