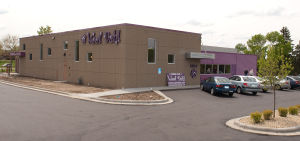 Our pups (Chimo and Oakley) have been going to Woofdah for a couple years now.. we tried a few different doggy daycares in the Minneapolis area, and this is by far the best one we have found (which is also conveniently located near us in Burnsville.) The staff actually gets to know our dogs, and is able to tell us if they are ever acting abnormal at daycare, and genuinely cares about us and the pups.
They have been renting space in a warehouse up until now, and needed a larger location, so they just finished up their new building. It's located right across the street from Burnsville High School, so it's a few blocks closer to us – although my choice of routes to get there will be limited a bit. ;) They had an open house at it today (May 15 2010) for the two-legged customers to explore the new place.. normally customers are unable to go into the dog areas because of insurance reasons, but today there were no puppies present, so we got to check it out. (By the time this goes up, though, the pups will probably be there!) I decided to bring my camera along and snap a few photos.. hope you enjoy a peek into the new building! Make our dogs jealous and tell them how great it is – they won't get to see it until Wednesday..
Note: you can click any image for a larger view.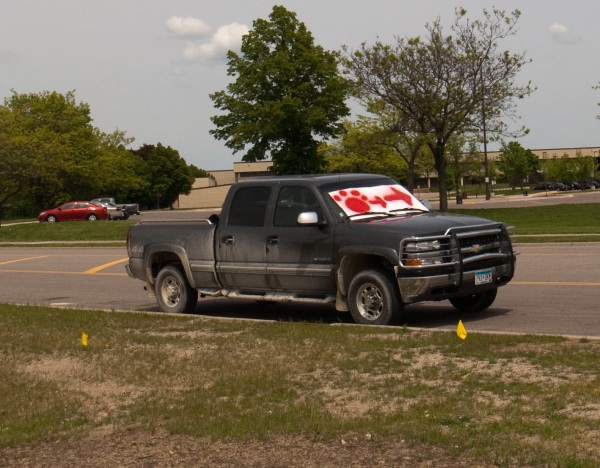 The owners' truck guides the way to extra parking, since the Woofdah lot filled up fast!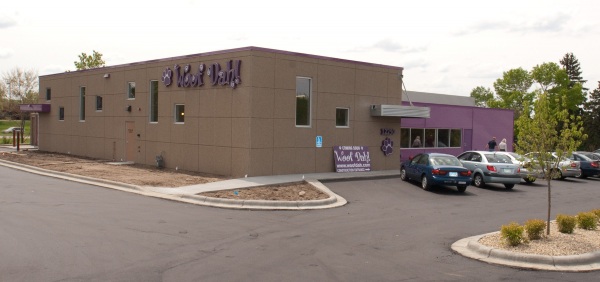 The outside of Woofdah's new building, customer entrance side.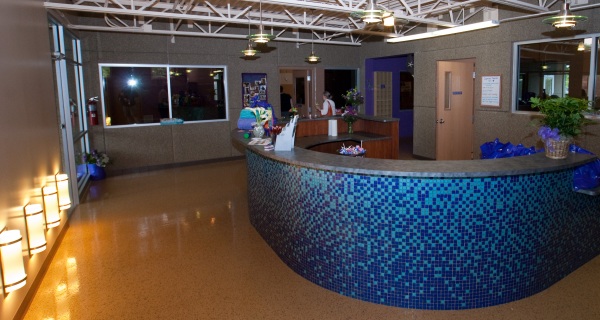 Woofdah has more of a "real" lobby now - a large front desk, tons of windows to look in at the dogs, and much more room!
The new lobby – *way* bigger than the old, with a huge desk, and tons of other perks.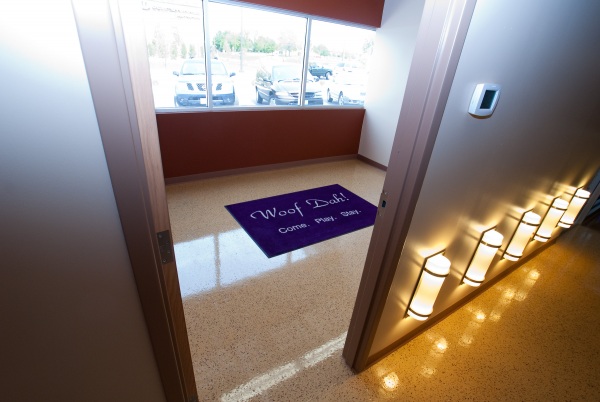 They actually have a room hanging off the lobby now – not positive what it'll be used for, but I'd imagine that it's a place where people could actually sit down and chat about their dogs with staff or whatever – something that was kind of missing at the old place, although the lobby had lots of conversations in it!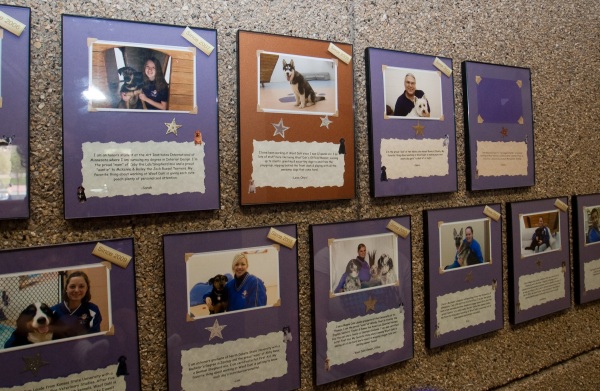 The only four-pawed employee of Woofdah – Onyx.. a HUSKY. The best kind of dog.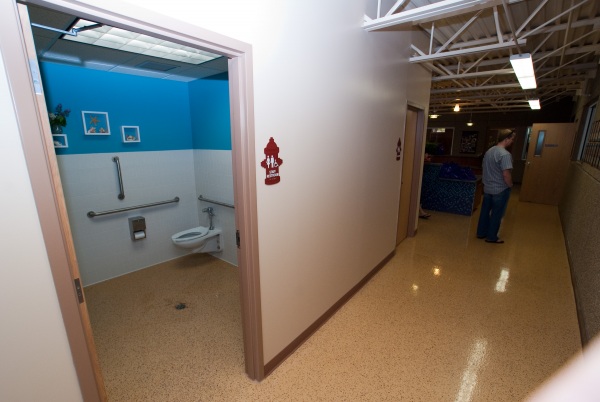 One thing that was sorely lacking at the old location – *nice* restrooms for both employees and customers. Note the hydrant.. I guess people can use them to figure out where to pee too.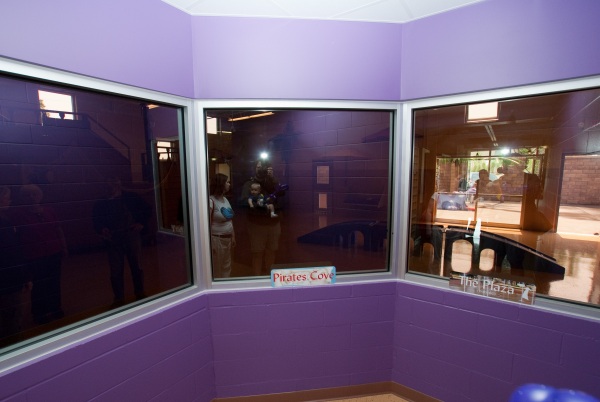 There are *tons* of windows in the new lobby – you can see pretty much every area the dogs can be.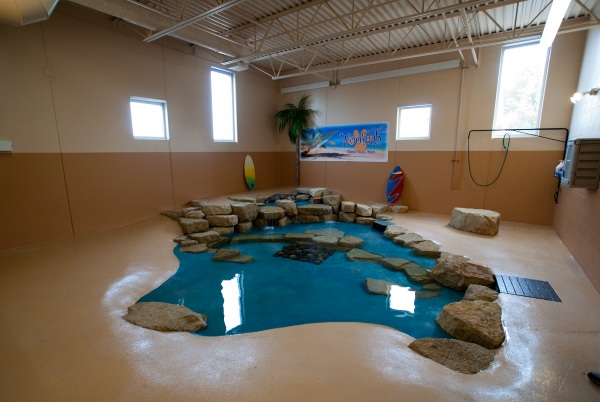 Woofdah has always had a pool.. but this pool is amazing. Waterfalls, lots of shallow areas, rocks to play on.. Kai wanted to try it out!
The new pool is unbelievable. Absolutely gorgeous, tons of room, rocks for the dogs to play on, and no chemicals or chlorine (which does mean that they have to empty and scrub it all the time.)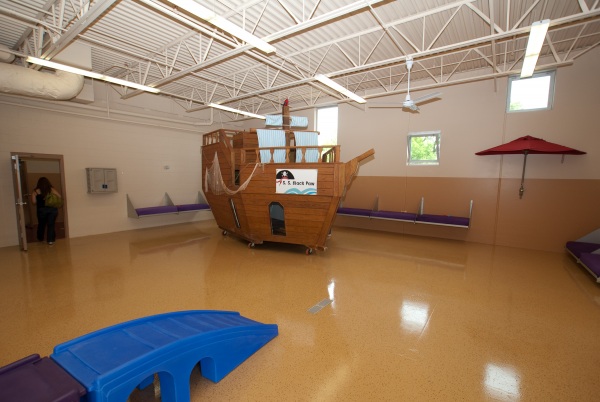 The "Pirates Cove" side of the play room.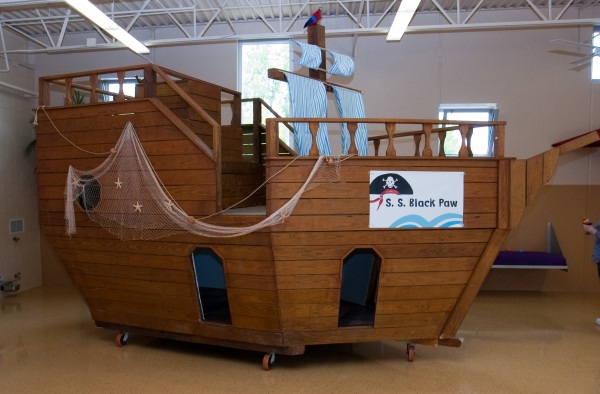 Many puppies favorite part – a pirate ship to play in!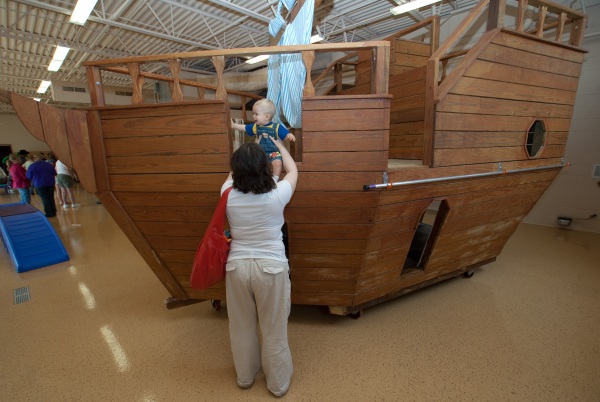 The puppies aren't allowed to use the upper deck of the pirate ship.. but Kai is!
Kai got to sit on the upper deck of the ship – no puppies allowed up there.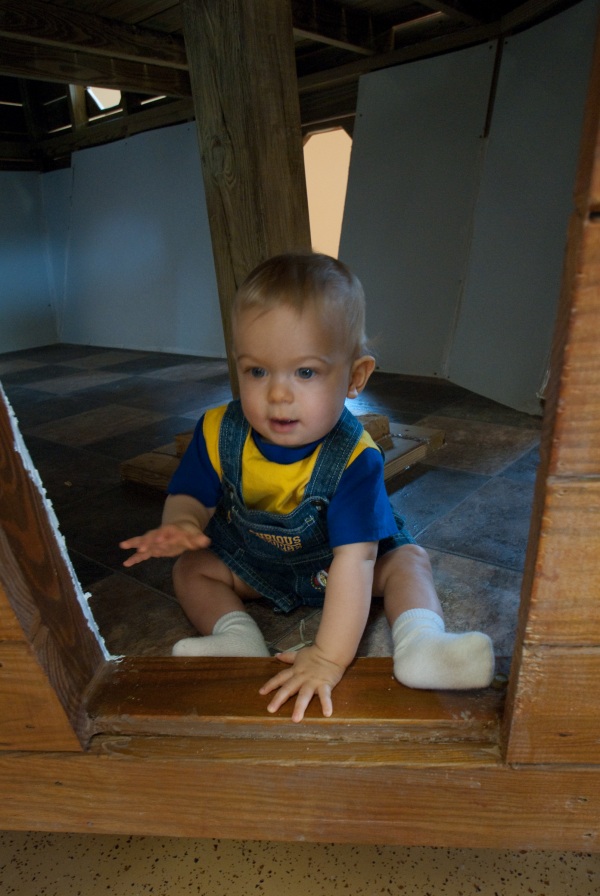 Kai also got to play where the puppies play.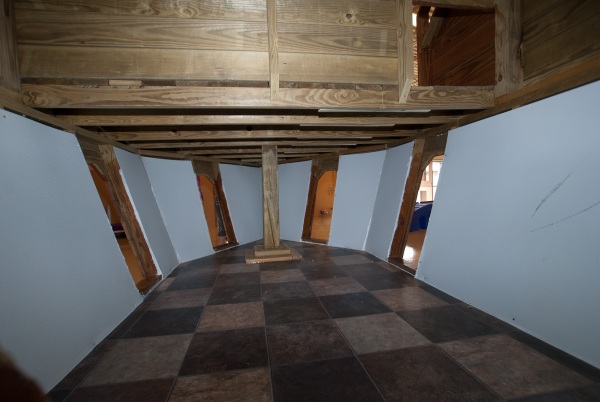 There is lots of room in the 'S.S. Black Paw' for the puppies.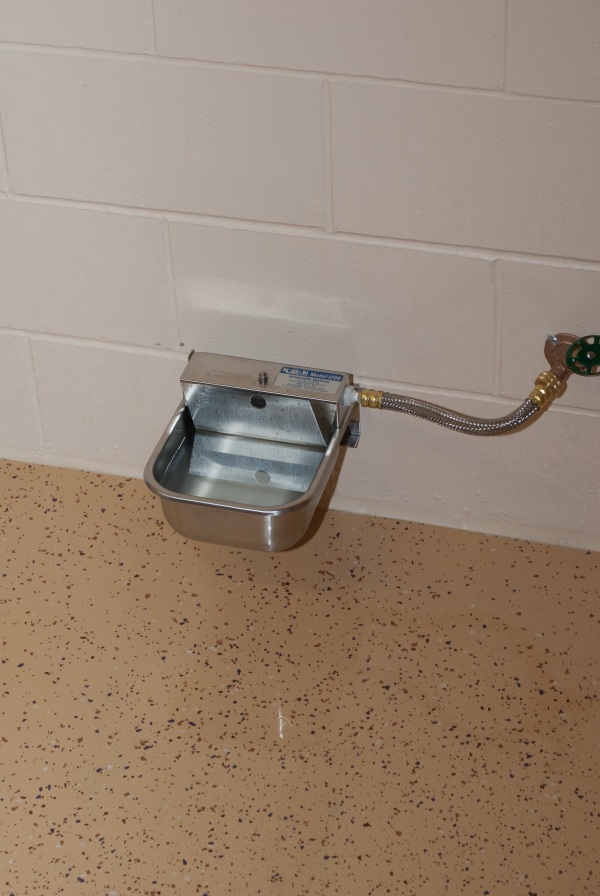 The puppies will always have plenty of water without the staff having to worry about it..
These automatic water bowls are scattered throughout the play area.. plenty of water available at all times.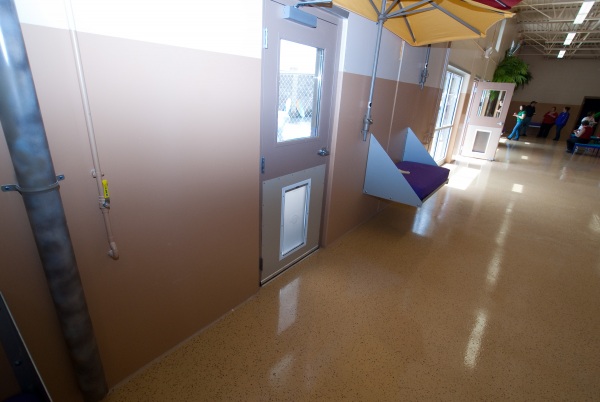 If you are a four-legged furbaby playing hard in the Pirate's Cove and realize you need to pee, there's a handy door heading outside.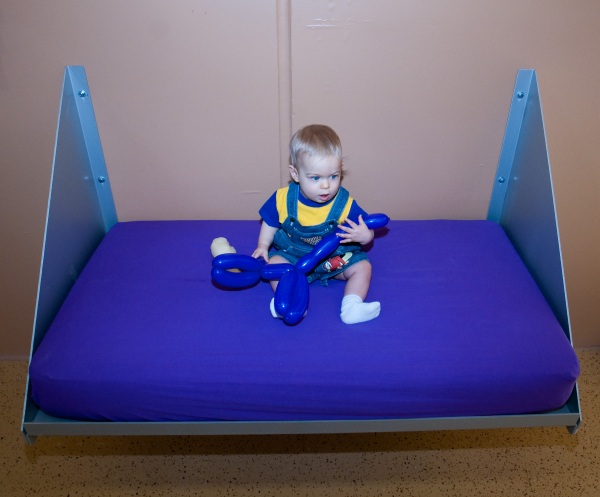 The puppy beds use crib mattresses.. so Kai figured he'd try one on for size.
The puppy beds are now crib mattresses.. so Kai figured he would make sure they were acceptably soft for his dogs. They passed.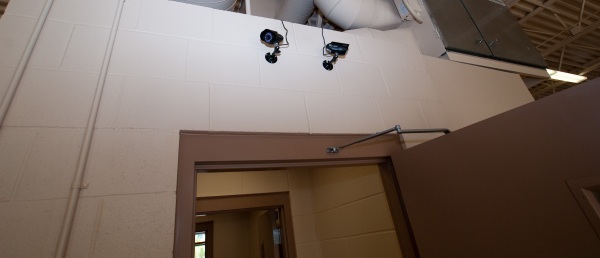 The new building has webcams over pretty much every area.. these are in the playrooms.
There are new webcams to cover every corner of the doggy areas.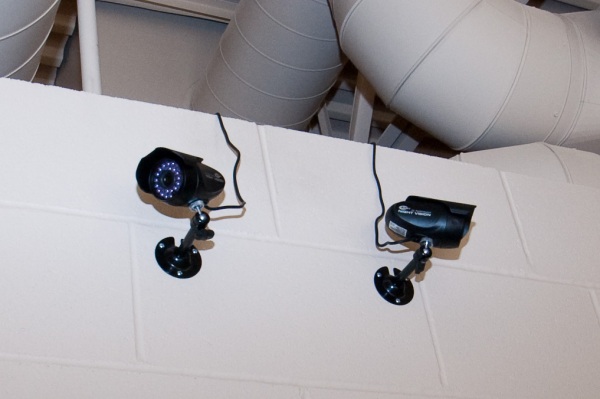 A close-up of the webcams in the play zone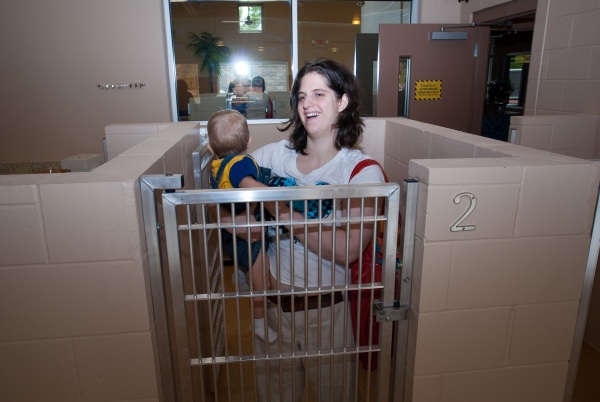 The only kennels at Woofdah are for feeding.. Tiff and Kai figured they would try one out.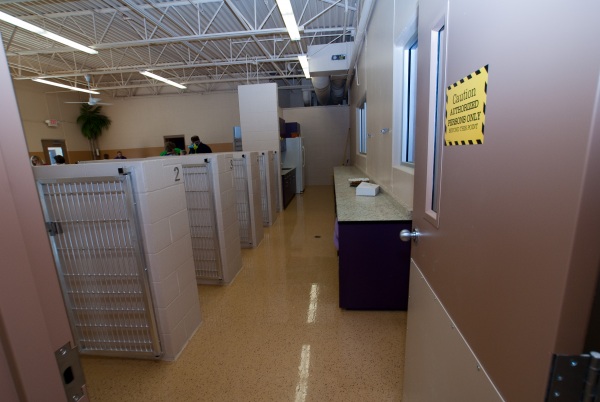 Kitchen side of the feeding kennels.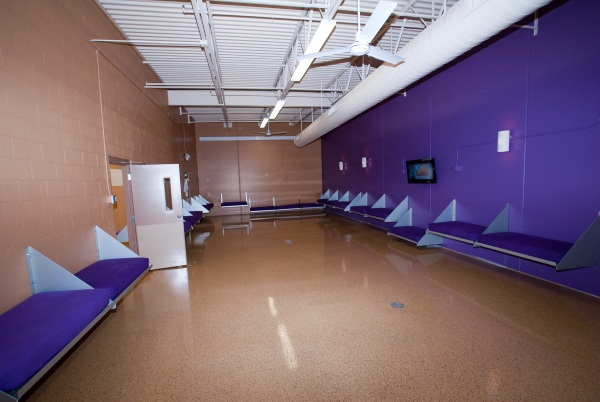 There are beds at every height for all sizes of puppies.. I'm sure some dogs will still decide to share beds though.
The new slumber zone – waay bigger, with tons of comfy beds.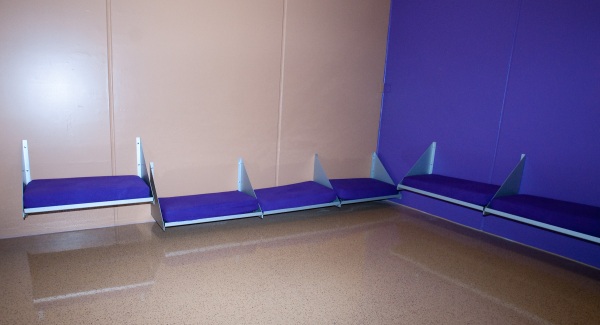 The beds come at all heights – gotta make sure all the dogs can get up after all!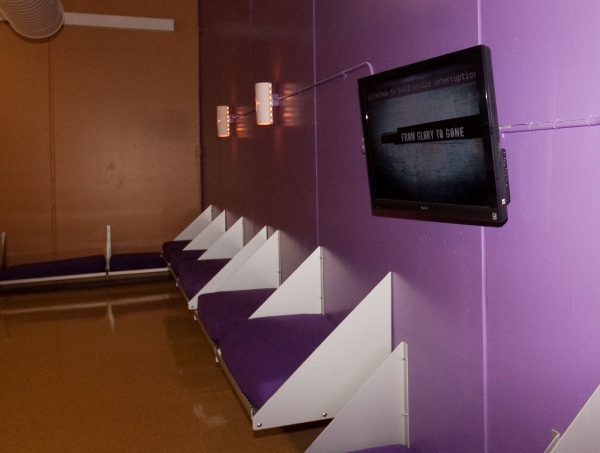 The puppies need their late-night movie!
The doggies get night-time movies every night. If only we could have this..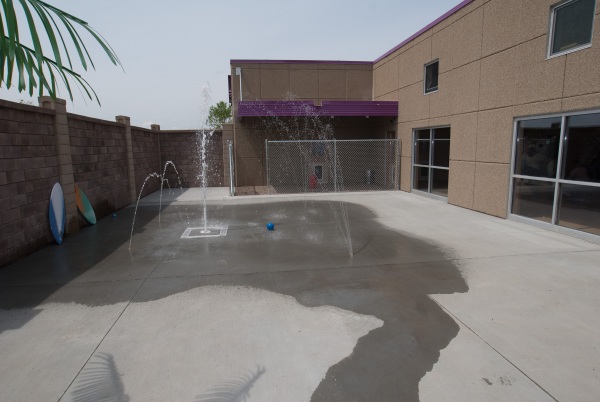 There's now a large outdoor play areas with two potty areas and a FOUNTAIN in the middle.
The new outdoor play area! Two potty areas, fountains.. Chimo and Oakley can't wait.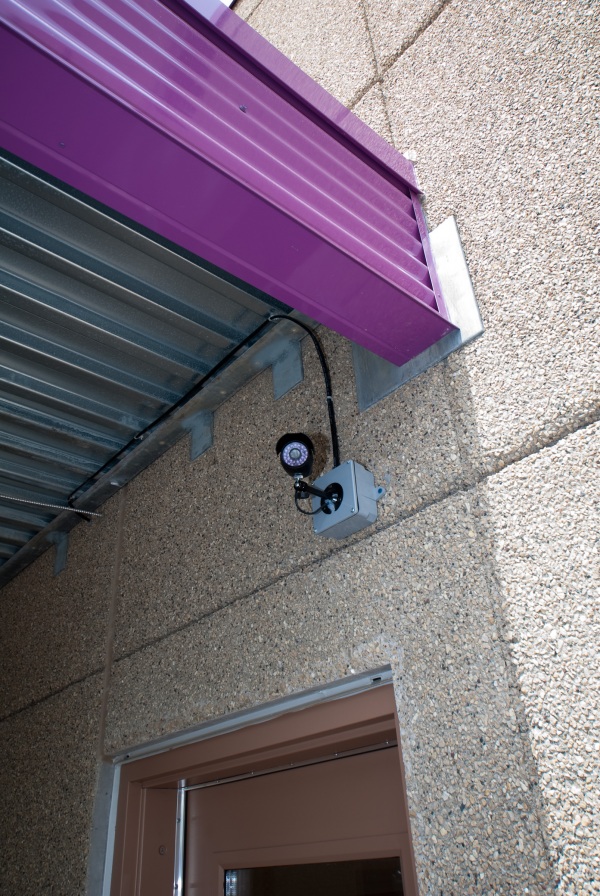 One of the cameras in the outdoor play area.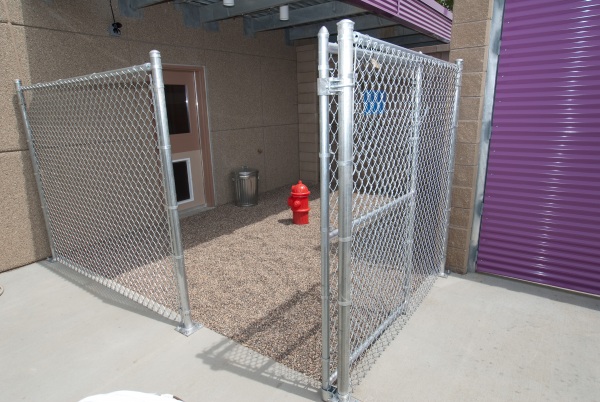 The potty area off the Pirates Cove area. Note the fire hydrant. Critical.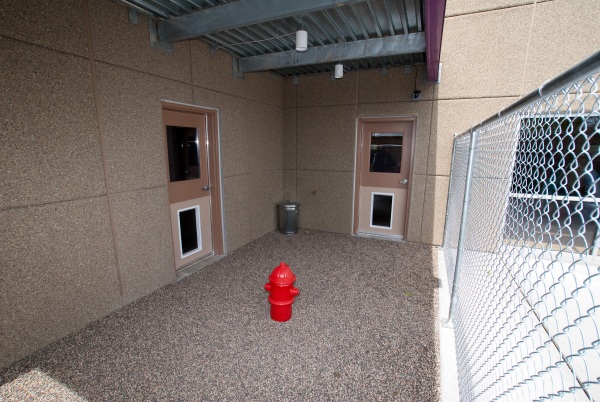 The potty area off the Slumber Zone.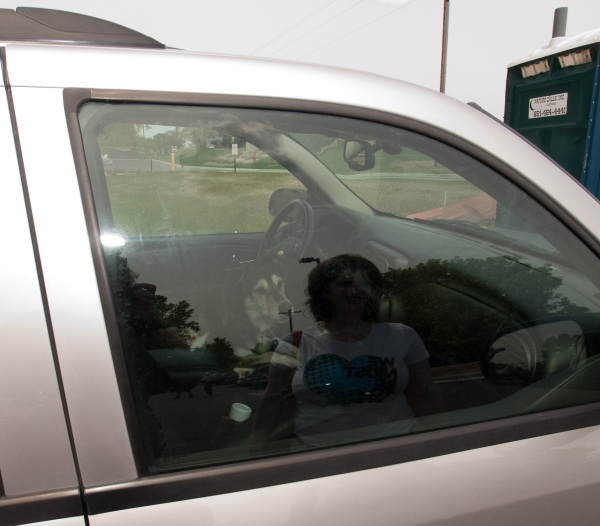 Chimo and Oakley came with us, but this was a people-only event (which we knew coming into it).. they were content to wait in the car. They will get to try out the new location on Wednesday!
Chimo and Oakley did get to come along, but had to wait in the car.. Chimo didn't mind though.

I do think that I will miss the old location.. it's been fun seeing Woofdah grow there. However, this is better in pretty much every way, and will be a great place for our pups!