Yup, this post has nothing to do with geekery, and is not humorous or anything like my usual posts. It's a serious post, and involves religion. If this bothers you, please move on.
My wife and I went to a Skillet/TobyMac double-headliner concert at the Target Center on November 13 with some friends. The show was awesome (as those bands always are), but that's not what this post is about. Before the Diverse City crew started in on a song (I believe it was "City on our Knees"), Toby shouted out "this is for someone" — I couldn't catch it. After the song finished, they splashed up the Minneapolis skyline on the screen, and started into the chorus of "God of this City" by Chris Tomlin, which I thought was awesome — my church has kind of adopted that song as an unofficial theme song. When the song was done, the room went dark, with the words "for Kinley" on the screen.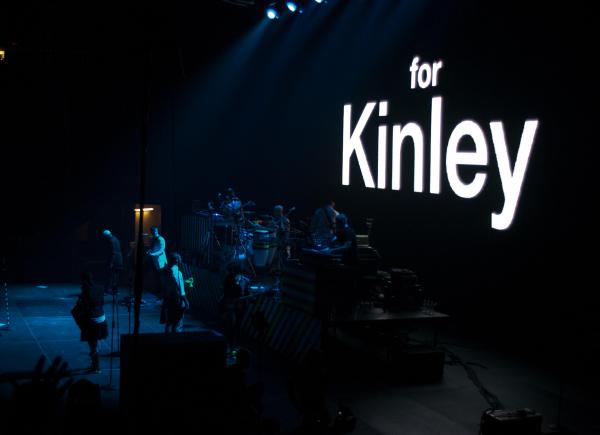 I had no clue what it was about, but hey, I was shooting pictures, and got a few shots of the screen. A few days later, I'm finally processing my concert photos, and figured I'd look it up. It was actually hard to find anything that I could associate with this, until I ran across this article at MinnPost. It turns out that Kinley Ogendi was a 12-year old boy who was murdered by his father, along with one of his sisters and his mom. I couldn't believe this happened — I had heard about this on the radio, but it was a quick report, and didn't really stick with me. This is such a sick thing, especially since it could have been prevented.
So how does this relate to the concert? From the MinnPost article linked above, apparently TobyMac was Kinley's favorite musician, and his classmates knew that, and contacted Toby to see if it was possible to have him play at their school. That wasn't doable; instead, 60 kids from Kinley's school were brought to the concert on Toby's dime.
In any case, I can't say it better than the song that was played just before "for Kinley" splashed up on the screen..
"For greater things have yet to come
And greater things are still to be done in this City"
We all need to band together and do everything we can to prevent something like this from happening again.