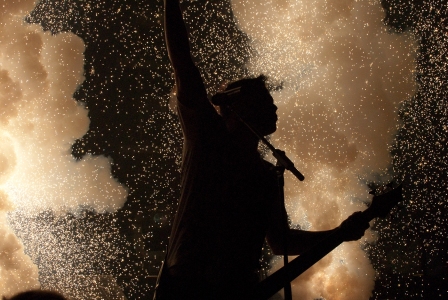 Silhouette of John Cooper of the band Skillet; shot at the Minneapolis Convention Center on November 14, 2009 during the 'Awake and Alive' concert tour.
NOTE: Wallpaper-sized copies of this available here. Make this your background!
For once, I brought a real camera (my trusty Nikon D200) with a real lens (Nikon 70-200 f/2.8 VR) to a concert. And I had good seats (second row, just off center.) And it was a lot of fun to photograph! This is one of my favorite shots.. they had lots of pyro during the show, which made for great effects, but also made it difficult to get good shots. And the entire auditorium was filled with smoke by the end of the show. This is one of the ones that I was really happy with; a lot of them had lots of fog and smoke in them. In any case, it was a great show — I may decide to post more pictures later too.