If you've been a fan of Skillet within the last few years, you've probably heard their song Lucy from their album Awake. The song is extremely emotional, and it seems that it immediately resonates with many, many people (I know that it sure did for me.) At previous concerts, and interviews, John Cooper (who is the lead singer and bassist of Skillet, and the author of this song) declined to detail what the song was about.
He said that it was about regret, and that people have adopted it for themselves, and he didn't want to ruin it for them with the real story. However, during Skillet's recent tour, he has told the story of Lucy before singing it. Here is what he said at their sold-out double-headliner show with TobyMac at the Target Center on November 13, 2010..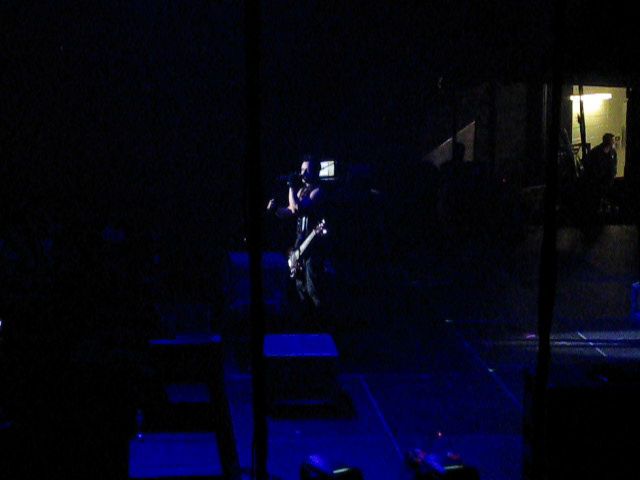 John L. Cooper talking about the meaning behind his song "Lucy" at the Target Center on November 13, 2010.
"..this week is the very first time that I've ever told what this song is about, because, uh, it's very special to me, but I feel like it's time to talk about it a little bit, so.. listen up while I tell you a story about a young girl and a young guy who found themselves in a hard situation. They didn't know what to do when they found out that she was pregnant; they were young, they didn't have any money, they were scared, they didn't want to tell anybody, they didn't know what to do, and the only option that they could see was to terminate the pregnancy. So that's what they decided to do… they went to a clinic, they had the procedure done, and at first they felt relieved that all their problems had gone away. But then something happened that they did not expect… and that's over the next few weeks, which turned into a few months, they began to feel an intense sadness… and a pain and an agony and a guilt that wouldn't go away. They didn't know what to do, so they finally went to see a counselor; they said look — tell us what to do, we just don't know, and the counselor made a suggestion. The counselor said here's what you need to do — stop acting like you had a procedure, and act like you had a death in the family. So the couple went home and they made three decisions; number one, they decided to have a funeral service for the baby; number two, they bought a tiny little headstone; and they last decision to make was what to name the baby. After a couple weeks they finally decided they would call her… Lucy."
— John L. Cooper in concert, November 13, 2010; transcribed by Nate Carlson, natecarlson.com
[ad name="Google Adsense 728×90″]
Many people had their theories about what the song was about.. my wife was right, I was wrong. "Lucy" is about the pain that can follow an abortion.. it's kind of ironic to me, as "Lucy" is one of the songs that I often sing to Kai when he is really upset, and it really helps calm him down.. so Lucy, whoever you were, you live on in the hearts of your parents and in all the people your song has helped, and as the song says, you'll one day meet your parents again:
Here we are, now you're in my arms
Here we are for a brand new start
Got to live with the choices I've made
And I can't live with myself today

Me and Lucy walking hand in hand
Me and Lucy never wanna end
Got to live with the choices I've made
And I can't live with myself today
— Lyrics from "Lucy" by John L. Cooper, as performed by Skillet