For the last few years, I've been doing my best to make sure that each laptop and desktop monitor I purchase has an excellent quality high-resolution display panel. In general, resolution-wise this means 1920×1200 (WUXGA); however, with the advent of 1080p HDTV's, I am also seeing some displays at 1920×1080. There are also the ultra-high-end displays (which are quite out of my price range) like the Dell 30″ displays (IE, the 3007WFP) which have a massive native resolution of 2560×1600. With my first 1920×1200 display (a Dell Inspiron 6000), I had lots of issues finding nice wallpapers available at that resolution. Since then, I've started using multiple monitors at 1920×1200, and need multi-display wallpapers. I've put together a list of sites I have found that offer free high-res backgrounds, and am also starting to post some of my own pictures as wallpapers; I hope you enjoy these and find them helpful! Please feel free to comment with any additional sites, or if there are any specific subjects you'd like to see available as a wallpaper.
[ad name="Google Adsense 728×90″]
As of 2009/Nov/20, I've also decided to start offering some of my own backgrounds – I hope you enjoy! Please let me know if you'd like to see other resolutions available.
Background #1: John Cooper of Skillet in front of Pyro (blog post):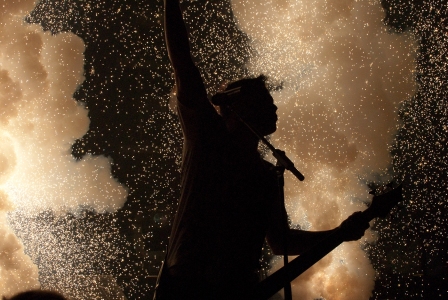 Silhouette of John Cooper of the band Skillet; shot at the Minneapolis Convention Center on November 14, 2009 during the 'Awake and Alive' concert tour.
1680×1050: Single display at 1680×1050
1920×1200: Single display at 1920×1200
3360×1050: Dual displays at 1680×1050 each
3840×1200: Dual displays at 1920×1200 each
[ad name="WidgetBucks 728×90″]
[ad name="Chitika 728×90 Leaderboard"]
If you know of any other great wallpaper sites, please comment!